What's On
English Wine Week
Always the last week of May, English Wine Week is the time to visit English vineyards when they often have special events organised.
This year English Wine Week is from Saturday 25th May until Sunday 2nd June. See the website of WineGB for information about a vineyard near you.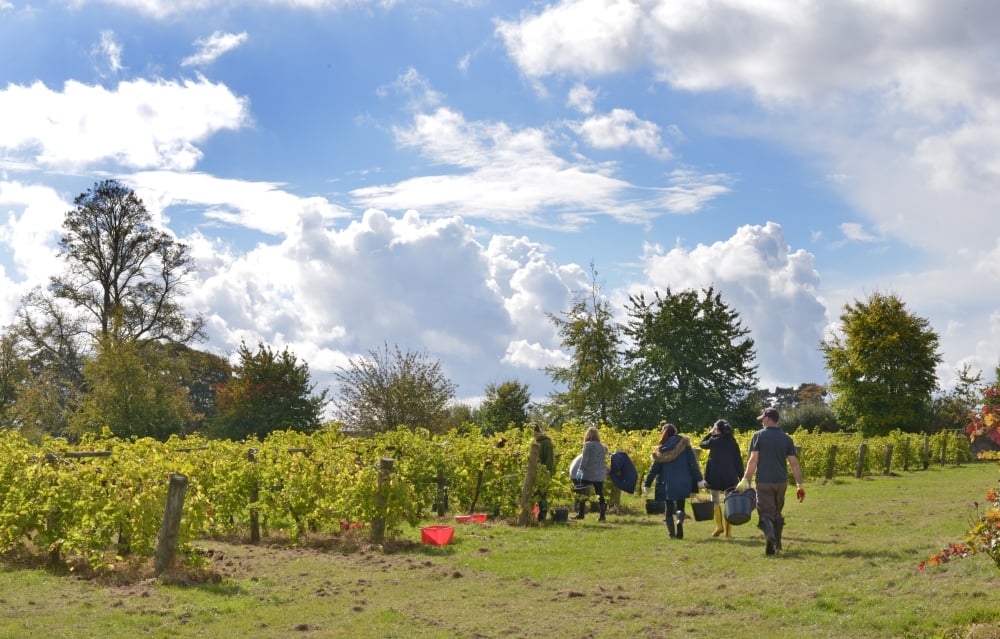 Grape Harvest
Our annual grape harvest takes place every October. We pick on 20 days over 4 weeks from the beginning of October. Starting at 9am, we pick until 1.30pm, with a mid morning coffee break, and then stop for a well deserved lunch when previous vintages can be tried. No picking in the afternoon but pickers are welcome to watch the processing which starts at the winery about 3pm.
Harvest 2019 will start during the week of 1st October and continue, week days and weekends, for the whole of October.
If you would like to join us, please email.

Following on from the success of the English Wine and Food Festival hosted at Brightwell Vineyard in June 2019, vineyards in The Thames & Chilterns Region will be coming together again for the weekend of 30th and 31st May 2020. Members of the public will have the unique opportunity to taste, compare and buy award-winning local wines in one beautiful location. The public can meet winemakers, growers and a Master of Wine specialising in English Wines and learn more about the grape varieties that do well in our climate. Exotic names like Bacchus, Ortega and Phoenix rub shoulders with classic varieties like Pinot Noir and Chardonnay, to produce superb wines that reflect the local terroir. Pairing the wide range of crisp, fruity wines with freshly made dishes on offer will make the Festival a must-visit event for wine-lovers and foodies alike. Wine tastings, vineyard walk and local artisan food and craft suppliers will make this a lively, informal and informative afternoon - a real celebration of the wonderful variety of wines and food that the Thames & Chilterns Region has to offer. For more details see the website: